Airfield House and Farm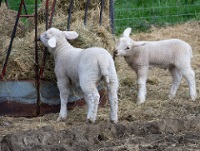 Lambs at Airfield © William Murphy
Kids love nothing more than farms, and there's no better place for them to explore than an actual working one. Airfield is the only active farm left within Dublin's city boundary and the owners aim to connect people of all ages to nature through farming and gardening. Indeed, they want to instill a respect and love for the natural environment. The sheep, horses, goats and pigs will provide endless entertainment for young ones and, with plenty of space to run around and activities for children to get involved in, parents will enjoy themselves too.
The farm has learning programmes for primary school children, secondary school children, and adults. Children participate in seasonal activities and help tend to the animals. They may even be lucky enough to witness a lamb being born. The adult courses teach sustainable living skills, such as cultivating a vegetable garden, keeping chickens, and making cosmetics. The Airfield House and Car Museum are also great to explore, and there is a lovely cafe on the premises as well. Airfield hosts art exhibitions and the like for entertainment, though many visitors come just for the pleasure of a stroll around the farm.
Address: Overend Way, Dundrum.
Website: www.airfield.ie
Telephone: +353 1 969 6666
Opening times: September to June: Monday to Sunday 9.30am-5pm July and August: Monday to Sunday 9.30am-6pm
Admission: €12 adults; €5 children. Concessions available