Pitsilia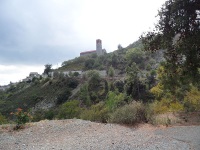 Kyperounta © Xaris333
A worthwhile day trip from Limassol is to explore the unspoilt villages in the foothills of the Troodos Mountains, in the region known as Pitsilia. Some important villages in the region are Palaichori, Agros, Alona, Askas, Polystypos, Plantanistasa, Kyperounta, Pelendri, Chandria, Dymes, Agridia and Kato Mylos. A rental car or a hired taxi is necessary because public transport is infrequent.
The area is renowned for its grape vines and fine wines and many of the villages make their own wines, and other products such as honey and cheeses. There are a couple of wine routes in the area and this is a fun way to explore the countryside and hope from town to town. The picturesque houses, painted churches and red-tiled roofs are striking, and many restored houses have been turned into cafes or restaurants. There are three noteworthy Byzantine Churches in the area which have been jointly declared a UNESCO World Heritage Site.
The area is very beautiful, heavily forested and mountainous, and enticing for hikers. There are at least eight nature trails to be found in Pitsilia. Pitsilia is known at the orchard of cyprus due to its wealth of fruit, and one of the best times to visit the region is in spring when everything is in bloom.
Address: 19 miles (30 kms) outside of Limassol
Website: www.visitcyprus.com/index.php/en/discovercyprus/routes/wine-routes/item/573-pitsilia-wine-route