Kowloon Park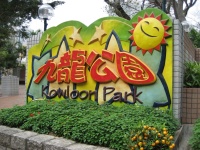 Kowloon Park © Ahleong
A good outdoors attraction for children on holiday in Hong Kong is Kowloon Park, which has aviaries, outdoor swimming pools, canals and a waterfall for kids to enjoy. The lake is home to a beautiful flock of flamingos, and the themed sections and open-air sculpture area are also interesting to see. Other outdoor facilities include a Fitness Trail, two playgrounds, a maze, a Chinese Garden and Conservation Corner. Indoor facilities, for sports enthusiasts, include a swimming pool and a Sports Centre where you can play volleyball, netball, badminton, handball, squash and table-tennis; there is also a dance studio and gym. The park often features street musicians and sometimes hosts fairs, which add to the fun atmosphere. However, its main draw is that it is restful, with shaded walks, lovely gardens and peaceful spots to rest. Children will love the chance to explore outdoors in this sanctuary just metres from the crowded and noisy streets.
The area actually has an interesting history as well: the site which became Kowloon Park in 1970 was once an important military base over-looking Victoria Harbour. The Kowloon peninsula was occupied by the British in 1861 and they named the base Whitfield Barracks.
Address: 22 Austin Road, Tsim Sha Tsui, Kowloon
Website: www.lcsd.gov.hk/parks
Telephone: 2724 3344
Opening times: Open daily 5am to midnight.
Admission: Free entry - apart from swimming pool and Sports Centre.