National Children's Castle (Kodomo-no-Shiro)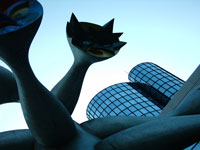 A great diversion for a rainy day if you are travelling with kids in Tokyo, the National Children's Castle was built to commemorate the International Year of the Child and will certainly keep young minds and bodies happy and busy. Each floor of this large building has its own theme and these include an open air playground on the roof, a space in which to celebrate music and play instruments, an art area where kids can experiment with paint and paper, a basement swimming pool (only open on weekends), and a play area with climbing walls, ropes and slides to occupy the active children. There is plenty of space for games and group activities and there are some organised performances and events. The staff guide and supervise kids in some of the areas and if adults need some amusement there are some great shopping opportunities in the area. The Children's Castle is best suited for kids aged between three and nine, although this is just a loose guide. There are areas for toddlers and babies as well. Although popular the castle is big and it seldom gets unpleasantly crowded. It is a great facility for parents with young kids who need to blow off a little steam and take a break from traditional sightseeing.
Address: 5-53-1 Jingumae
Telephone: (03) 3797 5666
Opening times: Open Tuesday to Friday 12:30pm-5:30pm; Saturday and Sunday 10am–5:30pm. Closed for December-January holidays.
Admission: ¥500 (adults); ¥400 (children).