Po Delta Natural Park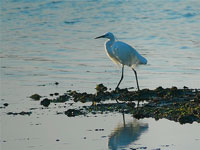 Italian National Parks may be different to what some foreigners expect in that they are not fenced in, pristine wilderness areas, but large inhabited swathes of land deemed worthy of environmental protection. The vast Po Delta, a flatland along the Adriatic coast, is one of the most stunning natural landscapes in Italy. The Po Delta is divided into two regional parks, the Emilia-Romagna and Veneto. The latter, easily accessible from Venice, encompasses woodlands, extensive farmlands, marshes, lagoons, beaches and rivers, as well as historical monuments and even cities.
Visitors to the Po Delta Natural Park can enjoy a day exploring the great outdoors. Discover the park by bike, boat, canoe, horseback or on foot. Tours are also available for those who want to visit the more protected areas of the park, and avid fisherman can enjoy the fishing lagoons, where bream, bass and grey mullet are plentiful. There are great bird-watching opportunities here too, so pack your binoculars. There are many areas to camp and wonderful walking trails. Travellers exploring Venice, who feel they would like some experience of the natural wonders of the region, will be delighted with Po Delta, and it is a great excursion for those travelling with kids.
Address: Ca' Vendramin
Website: www.parcodeltapo.org