Minopolis – City of Children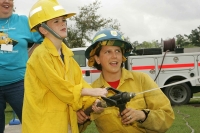 Child firefighter © Hillebrand Steve
Minopolis is Europe's first theme park featuring a city that was specifically designed for children, with buildings, doors, cars, and other objects reduced to children's size. Children can pretend to be adults and go about their daily life in the city of Minopolis, working as whatever their hearts desire: a journalist, fire-fighter, policeman, doctor, or dentist.
Children can discover their dream jobs in a fun and safe environment. There are more than 80 professions for children to try their hand at. The theme park is designed with children aged between four and 12 in mind. Although a visit is lots of fun for kids, they also learn a lot about life in a safe and friendly environment, where they are under the supervision of trained coaches, most of whom are qualified teachers.
Address: Wagramer Straße 2
Website: www.minopolis.at
Telephone: +43 1319 1571
Opening times: Open Fridays from 2pm - 7pm. Saturday, Sunday, Public and School Holidays from 10am - 6pm.