Hong Kong Wetland Park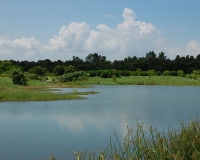 Wetland Park © Leonardolo
Children on holiday in Hong Kong who want to see crocodiles, butterflies, birds and mangroves should head to the Hong Kong Wetland Park. The Wetland Park showcases the incredible diversity of Hong Kong's wetland ecosystem and the park's main objective is conservation and the education of the public about the importance of preserving this natural system. The park is comprised of a visitor centre, Wetland Interactive World, and a big Wetland Reserve. The Wetland Interactive World has themed galleries and exhibitions, a theatre, a gift shop, and an indoor play area (theme: swamp adventure). Interactive and educational games are a great feature of the centre, as are the sound booths where kids can compose wetland symphonies using the sounds of this fascinating ecosystem. All the games and displays can be absorbing so be sure to actually go outside and enjoy the beautiful walks and the three bird hides, which children will love. The park also hosts some fun events, like bird watching festivals.
This attraction is consistently popular with tourists and makes for a really lovely break from Hong Kong's indoor, urban attractions - it'll delight people of all ages interested in nature and animals and will allow kids to blow off some steam outdoors.
Address: Tin Shui Wai, New Territories
Website: www.wetlandpark.gov.hk/en
Opening times: Open daily 10am to 5pm; except Tuesdays, when it is closed.
Admission: HK$30 (adult), HK$15 (child, and other concessions).