Doolittle Pool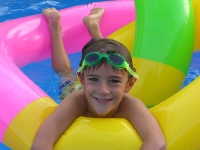 When the Las Vegas summer heat gets too much for the kids head to the Doolittle Pool complex, which has a great swimming pool and pool toys for kids to enjoy. Other features of this attraction include a water slide and playground, as well as sports fields and a picnic area.
Address: 1950 North J Street
Telephone: (702) 229 6398
Opening times: Monday to Saturday 12pm-5pm. Closed Sundays.
Admission: $2 adults, $1 children 4-17.