Blue Man Group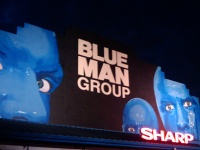 An entertaining attraction for children (and their parents) in Las Vegas is a show by the Blue Man Group. Three 'mute' performers, painted blue and wearing bald caps, keep kids on the edge of their seats with a combination of humorous theatrics, music and comedy. Ponchos are handed out to the first few rows, as paint can occasionally go flying.
Address: Blue Man Theater, Venetian Casino Resort, 3355 Las Vegas Boulevard South
Website: www.blueman.com/tickets/las-vegas
Telephone: (702) 414 1000 or (702) 414 9000
Opening times: Nightly 7pm and 10pm
Admission: Ticket prices vary depending on show and seating.