Magicopolis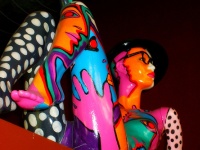 Magicopolis © Gentleman of Sophistication and Refinement
Fantasy and illusion come alive at Magicopolis, where magic, music and special effects inspire awe and wonder. The shows at Magicopolis run between 90 minutes and two hours and feature comedy, magic, music, illusions, special effects and audience participation. Magic trick kits can be purchased to take home, and there are treats and refreshments available from the theatre's café.
Address: 1418 Fourth Street, Santa Monica
E-mail: info@magicopolis.com
Website: www.magicopolis.com
Telephone: (310) 451 2241
Opening times: Friday and Saturday evening shows at 8pm or Saturday and Sunday 2pm matinee shows.
Admission: Friday and Saturday evening shows (8pm) $36; Saturday and Sunday matinees (2pm) $26.