Castle Park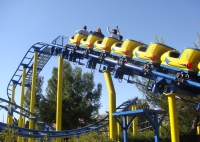 Merlin's Revenge at Castle Park © Martin Lewison
A great attraction for kids in Los Angeles, Castle Park has a number of enticing entertainment options to offer adventure-seeking children. The arcade boasts hundreds of games including Ghost Blasters, Time Crisis 3 and Dance Dance Revolution, with fun prizes to be won and a snack bar. The park's roller-coasters, antique train tours and mini-golf are also great fun for kids. There are souvenir shops and family restaurants, as well as a weekly magic show.
Address: 3500 Polk Street, Riverside
Website: www.castlepark.com
Telephone: (951) 785 3000
Opening times: Monday to Thursday, 1pm-8pm, Fridays until 9pm. Saturday and Sunday from 11am to 9pm and 8pm respectively. Buccaneer Cove closed over winter.
Admission: A variety of passes are available, starting from $9.99.