London Science Museum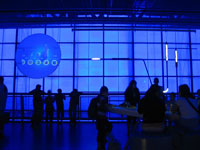 Science Museum © nyaa_birdies_perch
Perfect for inquisitive children, the Science Museum will captivate, educate and thrill kids of all ages. Featuring dozens of state-of-the-art exhibits, the Science Museum also features a 3D IMAX Theatre. The Museum's rotating exhibitions are topical and intriguing ensuring that kids can visit many times and always learn something new and relevant to their world. Other popular attractions include a Hidden Heroes exhibit, showcasing everyday technological items that are often taken for granted; and a Futurecade area, where kids can play simulation games that speculate about future scientific advancements and how they might affect life on earth as we know it.
Address: Exhibition Road, South Kensington
Website: www.sciencemuseum.org.uk
Telephone: 0870 870 4868
Transport: South Kensington underground station (served by the District, Circle and Piccadilly lines)
Opening times: Open daily, from 10am to 6pm.
Admission: Free, though charges apply for the IMAX theatre, the flight simulators, and some special exhibitions