Randall Museum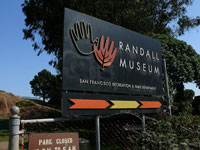 The Randall Museum, also known as the Science and Nature Museum, provides plenty of enjoyable and exciting learning opportunities and experiences for children of all ages. The museum also features animals, such as birds, mice and snakes and children can even get to handle these animals as part of the educational experience. Workshops and programs are also available to children and adults.
Address: 199 Museum Way
E-mail: info@randallmuseum.org
Website: www.randallmuseum.org
Telephone: (415) 554 9609
Opening times: Open Tuesday to Saturday 10am-5pm.
Admission: Free