Central Park Zoo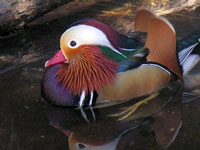 Duck in Central Park Zoo © x-eyedblonde
Home to some exotic and beautiful animals, the Central Park Zoo is a must for all children and animal lovers visiting the city. Residents at the zoo include the elusive red pandas, polar pears, snow leopards, and snow monkeys to name a few. The Tisch Children's Zoo is a great place for young kids, with children able to pet the goats, sheep, alpacas, potbellied pigs, and other barnyard animals on display. Booking online may result in discounts and also allows visitors to skip the long summer queues.
Address: 64th St. and Fifth Ave, Central Park
Website: www.centralparkzoo.com
Opening times: Open daily 10am - 5pm on weekdays and 10am - 5.30pm on weekends and holidays. Hours are slightly reduced between November and March.
Admission: General Admission is $13.95 for adults, and $8.95 for children. Combination deals, concessions, and family specials are available.