Trump-Wollman Rink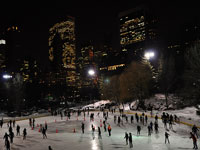 Wollman Rink by night © specialkrb
This public ice rink, located in Central Park and made famous by many movies, is a fantastic place to take the kids for the day during the winter months in New York City. The setting is beautiful, surrounded by trees with the New York City skyline above them. Children can even attend skating school or host a party or event here, guaranteeing an unforgettable experience. The rink is not just for children, however, and is a popular spot for dates in New York City due to the romantic associations and stunning setting. The whole family is bound to enjoy a few hours at this rink - there may be others in the city, but the Trump-Wollman Rink is the most spectacularly scenic.
Address: Central Park
Website: www.wollmanskatingrink.com
Opening times: Public Skating hours can vary throughout the year, and the rink is only open seasonally.
Admission: Monday to Thursday: $11.25 (adults), $6 (children under 11). Friday to Sunday: $18 (adults); $6 (children under 11).