Trump Wollman Rink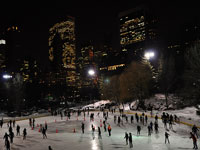 This public ice rink located in Central Park, and made famous by many movies, is a fantastic place to take the kids for the day during the winter months in New York City. The setting is beautiful, surrounded by trees with the New York City skyline above them. Children can even attend skating school or host a party or event here, guaranteeing an unforgettable experience. The rink is not just for adults however, and is a popular spot for dates in New York City.
Address: Central Park
E-mail: dklied@trumporg.com
Website: www.wollmanskatingrink.com
Telephone: (212) 439 6900
Opening times: Public Skating hours: Monday and Tuesday 10am-2:30pm. Wednesday and Thursday 10am-10pm. Friday and Saturday 10am-11pm. Sundays 10am-9pm.
Admission: Monday to Thursday: $10.50 adults; $5.50 children under 11. Friday to Sunday: $16 adults; $6 children.