Brooklyn Children's Museum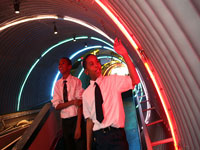 Brooklyn Children\'s Museum © Diane Bondareff
The Brooklyn Children's Museum is a great place to take the little ones while on holiday in New York City. It was founded in 1899 and was the first museum in the United States. Its collections and exhibits include hands-on activities, role-playing opportunities, resident animals and thousands of artefacts to teach children about science, the environment, culture, and the arts. There are no 'Do Not Touch' signs here! There is a cafe and a shop at the museum, and a special 'Totally Tots' section for kids under five. Children must be accompanied by an adult (somebody over 16).
Address: 145 Brooklyn Avenue
Website: www.brooklynkids.org
Opening times: Tuesday to Sunday 10am-5pm. Closed Mondays.
Admission: $9 per person.