Brooklyn Children's Museum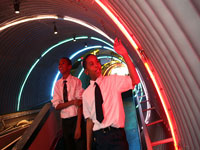 The Brooklyn Children's Museum is a great place to take the little ones while o holiday in New York City. It was founded in 1899 and was the first museum in the United States. Its collections and exhibits include hand-on activities, role-playing opportunities, resident animals and thousands of artefacts to teach children about science, the environment, culture, and the arts. There are no 'Do Not Touch' signs here!
Address: 145 Brooklyn Avenue
E-mail: comments@brooklynkids.org
Website: www.brooklynkids.org
Telephone: (718) 735 4400
Opening times: Tuesday to Sunday 10am-5pm. Closed Mondays.
Admission: $7.50