Featherdale Wildlife Park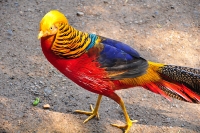 Featherdale Wildlife Park © Kimberly Vardeman
Families who visit the Featherdale Wildlife Park will be able to interact with and observe unique Australian animals like koalas, wallabies and emus up close and personal. Kids can have their photograph taken with one of these fuzzy animals and petting the koalas is also allowed, a rare thing in New South Wales. These popular favourites are members of one of the country's largest collections of native animals and bird life, and there are many other animals to meet. At the park there is also a cafe, a souvenir shop, and some picnic areas with barbeque facilities. Featherdale promises fun for animal lovers of all ages!
Address: 217-229 Kildare Road, Doonside
Website: www.featherdale.com.au
Telephone: (02) 9622 1644
Opening times: Open daily from 9am to 5pm. Closed on Christmas Day.
Admission: A$31 (adults); A$17 (children aged 3-15). Other concessions available