Union Buildings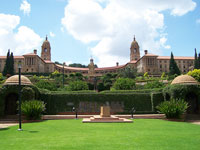 Union Buildings © Hühnerauge
Designed by renowned South African architect, Sir Herbert Baker, the Union Buildings are located on Meintjieskop hill, a sentinel overlooking the city of Pretoria. They are the official seat of the country's government and houses the offices of the South African President and other government officials.
The Union Buildings are a South African Monument and have seen such icons as former South African president, Nelson Mandela, inaugurated. The main semi-circular building is considered an architectural masterpiece and is an easily recognisable South African landmark worth seeing and photographing for tourists in the area.
With spectacular terraced gardens full of indigenous flora, the Union Buildings are not only historically important, but also rather beautiful. The spacious gardens are a popular venue for picnics and wedding photos and visitors are welcome every day.
However, unfortunately, the buildings themselves are never open to the public. There are various monuments to see in the gardens, including the South African Police Memorial and a monument to General Louis Botha, the first prime minister of the Union of South Africa.