National Zoological Gardens of South Africa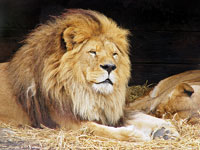 Lion © Tambako the Jaguar
Commonly known as the Pretoria Zoo, the National Zoological Gardens of South Africa is often described as one of the leading zoos in the world. It is the largest zoo in South Africa and the only one with national status.
Tickets include a visit to the zoo, an aquarium, and a reptile park. The Pretoria Zoo cares for more than 200 mammal species, more than 200 bird species, around 190 fish species, and more than 90 reptile species.
The zoo is known for its large enclosures and animals which include cheetahs, chimps, lemurs, leopards, rhinos, hippos, elephants, red pandas, koala bears, lions, and tigers. Golf carts and children's pushcarts are available for rent and there is even a Zoo Choo-Choo Tractor Train for the kids to enjoy.
The cable car, which runs up a hill and offers great views over the city, is one of the highlights. For the hungry, there is a restaurant, a cafeteria with a wide variety of take-away options, a few snack kiosks, and numerous pretty picnic sites where you can relax in the shade. Some picnic sites even have barbeque facilities.
There are a variety of tour options at the zoo and those who want to take something away with them can try the curio shop for souvenirs.
Address: 232 Boom St
Website: www.nzg.ac.za