Loftus Versfeld Stadium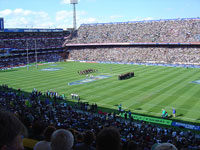 Loftus Versfeld © legio09
A shrine for many of Pretoria's rugby fantatics, the Loftus Versfeld Stadium seats over 50,000 people and was one of the stadiums hosting matches in the 2010 FIFA World Cup. The land on which the stadium was built was first used for sporting events in 1903 and is named after Robert Owen Loftus Versfeld, who is attributed with establishing organised sport in Pretoria.
Loftus Versfeld stadium is home to the Blue Bulls, the local rugby team passionately supported by Pretorians and very successful locally and internationally. The stadium has hosted numerous big sporting events, such as the 1995 Rugby World Cup and the 1996 CAF Africa Cup of Nations.
Enthusiastic sports fans may want to add the stadium to their sightseeing itinerary, and rugby supporters travelling to Pretoria should try and take in a game at this famous South African venue. Even those indifferent to rugby, and sport in general, may want to check on whether there are any other events showing at this superb venue during their stay.