Kruger House Museum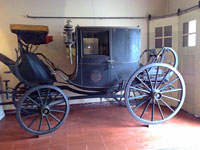 Coach at Kruger House Museum © retnev
The former residence of Boer leader and President of the Republic of South Africa, Paul Kruger, is now the Kruger House Museum. Built in 1884, the house was the last one in which President Kruger would live, between 1883 and 1901, before leaving South Africa to go into exile in Europe.
Exhibitions in the museum detail Kruger's leading role in the South African War, formerly known as the Anglo-Boer War, against Britain. It also provides information regarding his presidency at a formative and tumultuous period in South African history, and his exile to Europe.
Adjacent to Kruger House is the former Bantu Commissioner's Office, erected in 1932, also used as the Native Pass Office. Kruger's government used the same site as police headquarters. The house contains some original furnishings from Kruger's residency and some other items from that historical period.
Present too are many gifts that were presented to Kruger, such as the lion statues on the veranda, as well as other memorabilia. The museum mainly aims to recreate the living conditions of the time, but also gives some insight into the life of this South African character.
Although the museum may not be entertaining for all tourists, those interested in the historical period should find it worthwhile.
Address: 60 Church Street