Oliewenhuis Art Gallery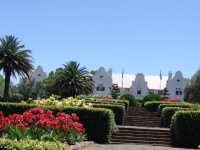 Oliewenhuis Art Gallery © Mangaung Local Municipality
From its distinguished setting in a Cape Dutch mansion, the Oliewenhuis Art Gallery is a must-see Bloemfontein attraction, featuring an expansive display of South African art. Designed in 1935 and completed in 1941, the Neo-Dutch mansion was built as the residence of the Governor General of the Union of South Africa, and once hosted King George VI and his family on their visit to Bloemfontein.
In 1989, the residence was opened as the city's art museum, a satellite of the National Museum, after long-term petitioning by the artistic community of Bloemfontein. Contemporary paintings and sculptures are exhibited here, as well as acclaimed masterpieces from days gone by.
One of the most exciting and unique aspects of the museum is the remarkable exhibition space in the old underground reservoir. The gallery also has a café and outdoor sculpture park for visitors to enjoy.
Kids will love the colourful Africa Carousel created by multiple artists working to integrate European and African mythology, crafting each individual creature. Located on Grant's Hill and surrounded by miles of unspoilt nature, visitors can also enjoy exploring the walking trails that wind around the museum.
Address: 16 Harrismith Street, Bloemfontein