King's Park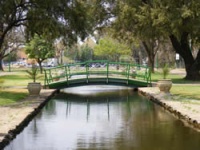 King's Park © Bloemfontein Tourism
Opened by the Prince of Wales in 1925, King's Park boasts over 4,000 beautiful rose bushes. In fact, Bloemfontein literally means 'flower fountain' and is often referred to locally as the 'city of roses'. It is the city's largest and loveliest green space and a nice spot to unwind and escape from the hustle and bustle of the city.
A colourful and fragrant park set on a lake and with grassy areas where children can expend some energy, the park is a good attraction for those travelling with kids. King's Park is also home to the Bloemfontein Zoo, established in 1906.
There is a popular arts and crafts market at King's Park on the first Saturday of each month, where food stalls compete with paintings and sculptures as well as other crafts like jewellery and some wonderful bargains can be found.
The market is open from about 7am to 1pm. Those looking for other outdoor areas in Bloemfontein should head to Naval Hill, which provides striking views over the city and borders the Franklin Game Reserve.