Prince of Wales Museum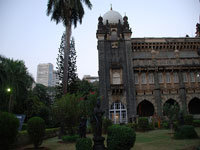 Prince of Wales Museum © Baishampayan Ghose
The Prince of Wales Museum, now officially known as the Chhatrapati Shivaji Maharaj Vastu Sangrahalaya, was founded in the early 20th century to commemorate the visit of (eventual King of the United Kingdom) George V. The museum houses more than 50,000 exhibits of ancient Indian history, as well as artefacts from other lands. The museum's greatest areas of focus are art, archaeology and natural history. The Indus Valley Civilisation section is particularly impressive. The museum is surrounded by a lovely garden, which provides a nice area to stroll in after exploring the exhibitions. The building dates back to 1914 but it was originally used as a military hospital and only housed the museum in 1922; it is an acknowledged architectural gem of the city.
There is a cafe where visitors can buy refreshments and it's fun to enjoy them out in the garden. The museum's collection is fairly large and if you want to see everything you will need a few hours. Students should be sure to take their student cards along because the concession for foreign students is substantial. There is no air conditioning in the building so rather don't visit in the midday heat. You are allowed to take photographs for personal use, but there is an additional charge to take in a camera.
Address: 159/161 Mahatma Gandhi Rd
Website: csmvs.in
Opening times: Open daily from 10:15am to 6pm. Closed for some national holidays.
Admission: Rs 300 (foreign adults), Rs 25 (foreign students and scholars), Rs 10 (foreign children aged 5 to 12). Admission includes audioguide.