Elephanta Caves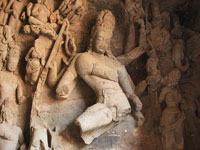 Elephanta Caves © Ricardo Martins
Located on Elephanta Island, in the Arabian Sea off the coast of Mumbai, the Elephanta Caves are a UNESCO World Heritage Site and an absolute must for visitors to Mumbai. The island can be reached by an hour long boat ride from the Gateway of India pier. The caves feature Shaivistic (the oldest of the four sects of Hindusm) stone sculptures of Hindu deities important to worshippers of Shiva. Many of the sculptures in the caves were unfortunately defaced by the Portuguese who, in the 17th century, used the sculptures for target practice. However, there is still lots of intricate and impressive art to see. When you arrive and step off the ferry you walk through a gauntlet of vendors selling all sorts of food and trinkets. You can take a ride on a small train to get to the cave site, or you can opt to be carried up in chairs, although it is also possible to just walk. Each year, in February, the Elephanta Dance Festival is held outside the caves with lots of local dance troupes performing. The island can get very crowded on weekends and public holidays so it is best to go during the week if possible.
Address: Elephanta Island
Opening times: Boats depart from the Gateway of India every 30 minutes from Tuesday to Sunday, from about 9am to 2:30pm. Closed Mondays.