Imagine It! Children's Museum of Atlanta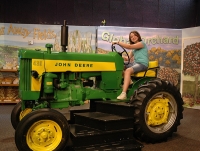 Imagine It! Children's Museum © Jeri Gloege
The Imagine It! Children's Museum of Atlanta is one of the most fascinating places parents on holiday in the city can take their younger kids for a day of exploring, learning and discovering. With exciting interactive exhibits such as the Curious George Gallery or exploring trees, children also get the opportunity to paint the walls, crawl through a playground or even don a raincoat and play in a forest stream.
Address: 275 Centennial Olympic Park Dr. NW
Website: www.childrensmuseumatlanta.org
Telephone: (404) 659 5437
Opening times: Open Monday to Friday 10am-4pm; Saturday and Sundays 10am-5pm. Closed Wednesdays. Closed Thanksgiving and Christmas Day.
Admission: $14.95