Zoo Atlanta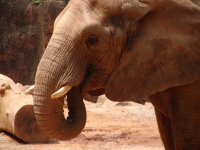 Elephant at Zoo Atlanta © Gavemyheart3162
Zoo Atlanta features around 1,000 animals representing 250 species from around the world and sees over 1 million tourists every year. Founded in 1889, the zoo has become one of Atlanta's top family attractions with exhibitions on the African rainforest, a free-flying parakeet enclosure, and a reptile house.
Children will absolutely love discovering all the animals and even some slightly more exotic ones such as the giant pandas, Sumatran tigers, clouded leopards, and komodo dragons. The zoo also has the country's largest collection of gorillas and orangutans.
For smaller children there is a petting zoo which allows kids to interact with goats, pigs and sheep.
Address: 800 Cherokee Ave
Website: www.zooatlanta.org
Telephone: (404) 624 9453
Opening times: Open Monday to Friday 9:30am-5:30pm; Saturday and Sunday 9:30am-6:30pm. Closed Thanksgiving and Christmas Day.
Admission: $22.99 adult, $17.99 children 3-11.