Happy Valley Amusement Park (Beijing Huanle Gu)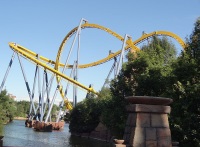 Happy Valley © Martin Lewison
This amusement park, which opened in 2006, is a fantastic place to spend the day with the little ones, or even without little ones! Happy Valley features about 40 rides, such as the Energy Collector, Trojan Horse and the Crystal Wing Rollercoaster, an IMAX Theatre and even a shopping centre. It is very similar in style and layout to Disneyland, featuring six theme parks: Firth Forest, Atlantis, Ant Kingdom, the Aegean Sea, Lost Maya, and Shangri-La. Atlantis is probably the favourite of these, with a massive palace built in its centre. There is a mini train that circles the outer rim of the park offering scenic tours. Kids of all ages will have a screaming good time at the Happy Valley Amusement Park, and in the right conditions it is a wonderful way to spend a few hours for the whole family. However, Happy Valley gets very crowded on the weekends, with queues of up to three hours for rides; during the week, when it is much quieter, not all the rides stay open. Therefore, to avoid disappointment, visitors are advised to find out ahead of time whether the state-of-the-art roller coasters will be running when they visit. Happy Valley is best when it is warm and sunny.
Address: Xiao Wu Ji Bei Lu, Dong Si Huan (East Fourth Ring Road)
Website: bj.happyvalley.cn
Telephone: (0)10 6738 9898
Opening times: Mid-March to mid-November: 9.30am - 5.30pm Monday to Friday; 9am - 5.30pm weekends. Mid-November to mid-March: 10am - 5.30pm daily.
Admission: CNY 260 (mid-March to mid-November); CNY 200 (mid-November to mid-March). Discounts for children are based on height.