Beijing World Park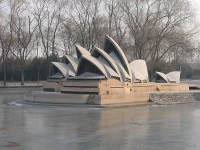 Miniature Sydney Opera House © Tohuchar
For those travelling with children in Beijing, The Beijing World Park is an entertaining destination. The park features about 100 miniature models of some of the world's most famous tourist attractions, from over 50 countries across the globe, and is designed to let visitors experience a trip around the world without ever having to leave Beijing. It is an amusing place to take photographs and, among locals, has become a popular spot for wedding pictures. The sights include Egypt's Great Pyramids, France's Eiffel Tower, India's Taj Mahal, England's Stone Henge, and even New York City's Manhattan island, complete with landmarks like the Empire State Building. Although the park can be a bit run-down, depending on the season, it is a great place for kids to learn and enjoy naming the attractions as they stroll through the replicas. If travellers take it all in with a positive attitude and let their kids' excitement infect them, the park can be a delight for adults too. Summer is the best time to visit Beijing World Park, as it is a venue designed for sunny weather.
Address: 158 Dabaotai, Huaxiang Fengbaolu, Fengtai District
Opening times: Open daily: 8am - 5.30pm (April to October); 8am - 5pm (November to March).
Admission: CNY 100 per person