Fundazzle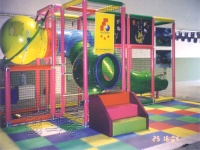 If you are looking for things to do with your kids in Beijing, Fundazzle is the venue to remember for a rainy day. This amusement centre delights children (it is open to anybody under 14) and gives parents a welcome rest. The huge indoor play area at Fundazzle features a massive ball pool, trampolines, a two-storey jungle gym, a toddler area with cars, swings, seesaws and houses, and something called a space maze in which children can lose themselves happily for hours. On the weekends there are arts and crafts classes and performances for the kids to enjoy. The centre is completely safe and can even be educational as there are sometimes fun, interactive language and maths classes conducted. After days spent sightseeing this is the perfect attraction for kids that need to blow off some steam and get some play time. Adults can spend the time reading or simply watching the kids cavort in the colourful playground, which can be very amusing.
Address: Gongti Nan Road
Telephone: (0)10 6500 4193
Opening times: Open Monday to Friday from 9am-5:30pm, Saturday and Sunday (and public holidays) from 9am-7pm.
Admission: Weekdays: RMB 35 per child. Weekends: RMB 15 per child.