Bruparck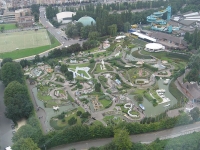 Mini Europe © Gellerj
This village was originally created for the 1958 World Exhibition and houses some of Brussels' most popular tourist attractions. The Oceadium water park, Mini Europe, a Kineopolis cinema and the world-renowned Atomium are all located here, making this a great day out for the whole family with plenty of eateries to stop and grab some refreshments and a bit of fuel for the next attraction.
Mini Europe is an interactive area that recreates all of Europe on a miniature scale, giving visitors a good perspective on the continent in a new, fun way. Built for the 1958 World Fair, the Atomium takes its shape and proportions from the internal lattice of an iron atom. There are nine spheres linked by escalators and each contains exhibition rooms hosting a rapidly changing series of exhibitions. There is a great view from the deck of the uppermost sphere.
Address: Eeuwfeestlaan 20Bd du Centenaire
Website: www.bruparck.com
Telephone: 02 474 8383
Opening times: Vary depending on specific attractions
Admission: Varied ticket prices. Check website for details.