Bakken Amusement Park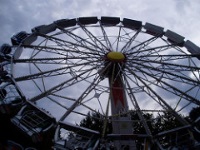 Bakken Amusement Park © Michael Welsing
The oldest amusement park in the world and one of Denmark's favourites, Bakken Amusement Park has delighted countless visitors since it first opened in 1583. The park features 34 thrilling rides and roller coasters, a love tunnel, merry-go-round and even dancing. Despite its age the park is modern and safe and the rides and facilities are impressive. Bakken has open-air eateries where exhausted families can relax and refuel; there are about 40 restaurants and bars so there should be something for everyone. Bakken also features a lot of games and activities and there are gambling facilities. Bakken Amusement Park has a great natural setting: just outside the amusement park gates is the beautiful woodland area of Dyrehaven which offsets the artificial glories of the park with natural amusements; the woods are a lovely place to stroll and they are home to thousands of free-ranging deer.
Address: Dyrehavevej 62
Website: www.bakken.dk
Opening times: Opening times vary depending on the day and month - check the calendar on the official website for details.
Admission: Entry is free. Wristbands allowing access to rides cost DKK 249 for adults, and DKK 179 for small children.