Denmark Aquarium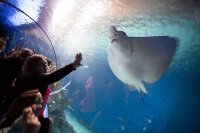 Denmark Aquarium © Johan Wessman
Boasting more than 300 species of marine life from across the globe, the Denmark Aquarium features more than 70 tanks with the largest containing 85,000 litres of water. There is also a biological museum with interactive themed exhibits for children and a touch pool for the little ones to enjoy. Other facilities include a café where visitors can take a break and get meals, treats or hot drinks, with lovely views. A good time to visit the aquarium is during feeding times: check the official website listed below to find the various times. The Denmark Aquarium is not large compared to other huge aquariums in Europe but it is well-maintained and a wonderful attraction for the whole family; kids lap will up a few hours spent in this magical underwater world, making for a good break from traditional sightseeing in Copenhagen.
Address: Kavalergården 1
Website: www.akvarium.dk
Opening times: Open daily: 10am - 9pm (Monday); 10am - 5pm (Tuesday to Sunday).
Admission: DKK 170 (adults); DKK 95 (children aged 3 - 11).