Copenhagen Zoo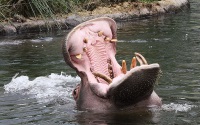 Hippopotamus at Copenhagen Zoo © mcamcamca
Founded in 1859, the Copenhagen Zoo is one of the oldest in Europe and features an amazing selection of animals from all over the world. Some of the zoo's most popular features include the Elephant House, designed by renowned architect Norman Foster, the Tasmanian Devils, very rarely found in any zoo outside of Australia, the polar bear enclosure, the lion den, and countless more. Notable animals in the 27 acre (11 hectare) park include tigers, red pandas, hippos, yaks, and camels. The animals are well looked after and the habitat designs are impressive. The staff are famous for their care for their animals and are usually willing to chat to visitors about them. Visitors are invited to view feeding and training sessions; check the website for details on when these events occur. Copenhagen Zoo is a joy for the whole family and it is worth putting aside at least half a day to enjoy its numerous attractions.
Address: Roskildevej 38
Website: www.zoo.dk
Opening times: November to February: 10am - 4pm daily. March: 10am - 4pm weekdays, and 10am - 5pm weekends. April, May and September: 10am - 5pm weekdays, and 10am - 6pm weekends. 1 - 27 June and 11 - 31 August: 10am - 6pm daily. 28 June - 10 August: 10am - 6pm daily. October: 10am -5pm daily.
Admission: DKK 180 for adults and DKK 100 for children.