The Pharaonic Village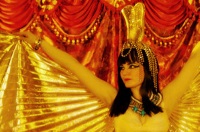 Cleopatra © Tanna Valentine
This living museum is a fabulous attraction for the whole family to enjoy. Visitors sail down a network of canals in motorized barges where a cast of actors and actresses work to recreate ancient Egypt. All the characters from pharaohs and fishermen to slaves and potters are represented and even moments in history are recreated. Apart from the faithful reproductions of ancient Egyptian buildings, clothing and lifestyles, there is a complete replica of the tomb of Tutankhamen and a number of museums and interactive exhibits covering different periods of Egypt's history.
Exhibits and activities change regularly making it a different experience every time you visit, but favourites include the mummification exhibit and the Cleopatra exhibit. There is a small amusement park, a restaurant, shops and an art centre, as well as boat hiring facilities. The experience is fun and educational and will take a family at least a few hours to fully appreciate so be sure to allow sufficient time.
Address: 3 El Bahr El Aazam St, Cairo.
Website: www.pharaonicvillage.com
Telephone: (0)2 3571 8675
Opening times: 9am to 5pm daily. Open until 7pm in the peak summer months.
Admission: Fees vary on itinerary selected.