Magic Galaxy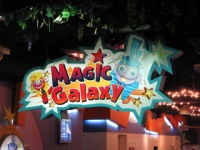 This indoor amusement park spans two floors and features 10 big rides, more than 100 games, and even a Baby Zone section for very young visitors. Kids can enjoy rides such as the Moon Buggy or Falling Star, and family rides like the Comet Coaster and Demolition Derby, they can spend hours ensconced in games and fun activities, or even let off some steam in the Soft Play Room. This is a fantastic attraction for the whole family, and a great way to beat the Egyptian heat for a while, or take a break from historical sightseeing. The focus of the amusement park is on children aged between two and 12 but there is fun to be had for all age groups.
Upon entry you will get a Magic Galaxy Card which is prepaid for use of games and rides and can be recharged with fresh funds whenever needed. The cards also accumulate points from certain games and you can pick prizes according to how well you have done. If you happen to go on your birthday you'll get a whole bunch of nifty discounts.
Address: 4th & 5th floor Helioplis City Stars Centre, Omar abn El khatab street, Cairo.
E-mail: info@setastars.com
Website: www.magicgalaxy.net
Telephone: (0)2 2415 8270