Kalypso Star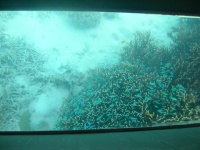 This is one attraction not to be missed by families travelling in Corfu with small children, although children are not required to enjoy this fun excursion! A glass-bottomed boat which runs every hour from Corfu's Old Port takes visitors around Vidos Island allowing them to view the magnificent and mysterious underwater world. The highlight of this trip for many though, especially the little ones, is the sea lions performing with their trainers in the ocean below and on a special platform. Note that these are not wild animals but sea lions bred in captivity. Divers also feed fish for the amusement of those watching through the glass. There are many other underwater creatures to watch and marvel at, as well as underwater flora. What you will see and experience varies because, apart from the sea lions, you sail over open ocean and the animals are not under the control of the organisers. During peak season the boat also offers night trips. Some trips include yummy beach barbecues and the opportunity to enjoy a swim and sunset on one of the island beaches. This trip is far more enjoyable when it is not packed full so it is best to ask when the boat will be more empty when you make reservations and to book accordingly.
Address: Old port, Corfu town
Telephone: +30 26710 46525
Opening times: In high season, trips leave daily on the hour from 10am to 6pm, plus they make a 10pm night trip. Call for the off-season schedule.
Admission: €15 (adults); €8 (children).