Aegean Maritime Museum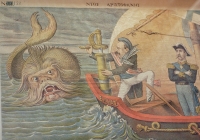 Aegean Maritime Museum © Zde
The Aegean Maritime Museum is a non-profit institution. Located on the island of Mykonos, it collects, studies and promotes Greek maritime history and tradition. Visitors can enjoy wonderful models of pre-Minoan ships, a superb collection of old maps and documents, navigational instruments, as well as rare coins and engravings.
The museum is also proud of its three 'living' historical exhibits, namely the 'Armenistis' lighthouse, the Perama-type sailing boat 'Evangelistria', and the cable-laying steamship, 'Thalis o Milissios'. Along with these treasures, visitors can stroll through a picturesque garden courtyard and admire anchors, the top of the old Mykonos lighthouse, and replicas of drowned sailors' gravestones.
All in all, the museum gives fascinating insight into the island's history, and is a good stop for the entire family.
Address: 10 Enoplon Dynameon Street 846 00 Myconos island, Greece
Website: http://aegean-maritime-museum.gr/en/aegean-maritime-museum-myconos