Aquaworld Aquarium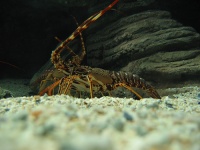 Lobster © Jose Maria Mateos
Aquaworld Aquarium features a wonderful array marine creatures, plus reptiles such as loggerhead turtles, Balkan green lizards, skinks, geckos and snakes. All in all, it's guaranteed to keep the little ones captivated.
Aquaworld is, in fact, a rescue centre that has taken in or rehabilitated most of its population. The institution encourages hands-on interaction with many of its animals and offers fantastic photo opportunities.
Although it specialises in local fauna, Aquaworld does collect reptiles and marine life from further afield as well.
Address: Filikis Etirias 7, Hersonissos
Website: www.aquaworld-crete.com