Crete Aquarium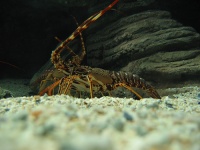 Featuring a wonderful array of marine life, the Crete Aquarium features a fantastic variety of reptiles too, such as Loggerhead turtles, Balkan Green Lizards, Skinks, gheckos and snakes, guaranteed to keep the little ones captivated. Interesting fish such as scorpion fish, groupers eels, octopus and stingrays can be viewed too. The aquarium is an animal rescue centre and most of the animals to be found there are rescued or previously injured animals which the establishment has rehabilitated or taken in. Aquaworld encourages a hands-on interaction with many of the animals and there are great photo opportunities for photographers. One of the most impressive and popular specimens is Naga, a seven-year-old Burmese python who is already almost four metres long. Visitors can watch the pythons feed and can touch and hold many of the animals. Although they specialise in local fauna, the aquarium does collect reptiles and marine life from further afield as well. A trip to the Crete Aquarium is a must for all families, especially those with young children.
Address: Filikis Etirias 7, Limani Hersonissou
E-mail: jbmclaren@hotmail.com
Website: www.aquaworld-crete.com
Telephone: +30 28970 29125
Opening times: Open 1 April to 31 October daily 10am-6pm (last entry 5:15pm).
Admission: €6 (adults); €4 (children)