Donkey trekking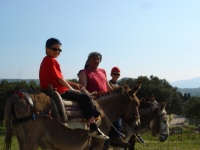 Donkey trekking is a great activity for the whole family to enjoy together and even the little ones will be thrilled to ride on the gentle animals. Day-treks from Molios to Vafios are available, travelling through verdant green valleys, past olive groves and along mountain paths to the village of Vafios. Sunset-treks to Eftalou are also wonderful and upon arrival riders are rewarded with a tasty barbeque on the beach, drinks, and even a swim while the sun sets over the sea. Donkey treks are a great way to get to know the region and to appreciate the scenery and learn something about the local traditions as well as landscape. Lesvos is a self-sufficient, proud island with well-preserved local traditions and a refreshing lack of tourist trappings, despite its popularity with visitors. You will be accompanied by a guide and the trips are safe, relaxed and fun. Booking is recommended to avoid disappointment. It is also a good idea to check the weather before planning a trek.
Address: Michaelis' Donkey farm, Petra 81109
E-mail: liz@lesbosdonkeytreks.com
Website: www.lesbosdonkeytreks.com
Telephone: +30 22530 41891
Admission: Day trek: €26 (adult); €16 (children). Sunset-trek: €30 (adult); €20 (children). Prices are a guideline only and are subject to fluctuation.