Petaloudes - Valley of the Butterflies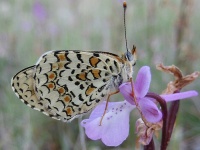 A wonderful place to take the kids while on Rhodes is Petaloudes, the Valley of the Butterflies, although any nature-lover will enjoy this unique experience. This attraction sees a myriad of beautiful butterflies colouring its skies and kids can follow them along the narrow streams, and over the rustic little bridges. The shaded walkways lead to rock pools and waterfalls, and carry a vanilla scent emanating from the local storax trees. The best time to visit the valley is after the rainy season (which ends in late May) when the high humidity in the area sees thousands of Jersey Tiger Moths, which are in fact butterflies despite their name, cover the landscape. They are attracted by the Oriental Sweet Gum trees in the area and can be found in the valley throughout the summer. The Valley of Butterflies is a natural park and a protected conservation area which is lovely to visit even when the butterflies are not around. There is a small Natural History Museum at the entry to the valley where visitors can learn more about this unique ecosystem.
Address: 20 minutes from Rhodes airport, near Kalamonas village.