Marine Aquarium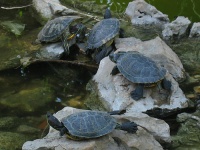 Children love the Marine Aquarium on Rhodes Island, enamoured by its diverse range of live Eastern Mediterranean specimens including sea flowers, turtles, octopuses and strange-looking decapods (crustaceans with 10 limbs). This venue has been used as an aquarium-museum and research station since 1963 and as such, it displays an interesting collection of preserved and mounted marine specimens, as well as numerous scientific instruments. The aquarium is housed in an interesting Art Deco building which was designed by an Italian architect when the island was under Italian rule. It is officially known as the Hydrobiological Station of Rhodes and is far more than a museum; the station is a research centre and a rescue and rehabilitation centre for aquatic animals which works to re-release animals back into the wild once they have been sufficiently cared for and rested. The Marine Aquarium is a very well-respected institution, although it is not as big as many modern aquariums. The aquarium creates an underwater atmosphere which captivates visitors of all ages and the air conditioning ensures that it is a cool and refreshing place to be, especially on a hot summer day.
Address: Cos Street, Hydrobiological Station of Rhodes
Telephone: +30 22410 27308
Opening times: Open daily except 1 January, 25 December and Greek Easter Sunday.