Ancient Theatre of Pythagorio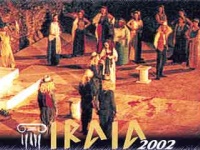 Just below the ruins of the Spiliani monastery, the tell-tale remnants of the Ancient Theatre of Pythagorio can still be seen. The stage and one tier of seats remain in place and indicate how grand this venue must have been in its heyday. Today the site is still used for theatrical performances such as plays and ancient tragedies, as well as entertaining concerts and modern recitals. It is truly wonderful to catch a show at this ancient venue.
The town of Pythagorio also holds attractions for tourists, including a pretty harbour and beaches. In fact, Pythagorio is the oldest manmade port of the Mediterranean and has a lot to offer visitors. It is considered by many to have the most vibrant nightlife in Samos, with more than 65 taverns, bars and cafeterias. And it is the hub for sailing excursions out to other cities, villages, beaches and ancient sites, including the city of Ephesus in Turkey which used to be one of the greatest ancient Greek cities. Attractions in and around the port, apart from the ancient theatre, include the statue of Pythagoras, the Castle of Likourgos, the Church of Metamorphosis, the Ephpalinos Tunnel, Roman Baths and much more.