Ancient Theatre of Pythagorion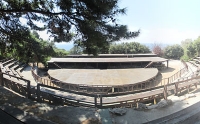 Ancient theatre of Pythagoreio © Tomisti
The Ancient Theatre of Pythagorion sits just below Panagia Spiliani monastery's ruins. Its stage and some seats are all that remains. Still, these remnants hint at how grand the venue must have been in its time.
Today, performers use the site for plays, as well as concerts and modern recitals. Historians and culture buffs should check the calendar for events.
Otherwise, Pythagorion is the perfect Mediterranean escape. A pretty harbour, gorgeous beaches, and the Mediterranean's oldest manmade port are among the town's highlights. Attractions in and around the port include the statue of Pythagoras, the Castle of Lykourgos, the Church of Metamorphosis, the Ephpalinos Tunnel and Roman Baths. Visitors who wish to explore a bit further can enjoy sailing excursions to other cities, villages, beaches and ancient sites.
The town also has a vibrant nightlife.
Address: Samos