Santorini Water Park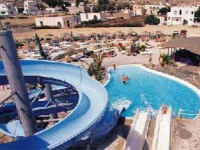 What could be more fun for kids on Santorini than a day at the water park? The Santorini Water Park offers great fun in the sun with three swimming pools and slides and a clean and picturesque park. There are three long slides, two of which have been designed with children in mind, and a playground area for little kiddies which includes two mini slides and a big model ship to play in. There are enough umbrellas and sun beds for 180 people. There are lifeguards on permanent duty so it is absolutely safe for parents to relax and enjoy themselves knowing that the kids are being supervised. The pool bar and restaurant provide tasty refreshments for kids and parents alike, and there is a selection of traditional Santorinian cuisine on the menu for those who like to sample the local food. The gift shop also has some good holiday souvenirs. Perhaps the biggest advantage of the Santorini Water Park is its dramatic mountain backdrop which adds beauty and atmosphere to this otherwise ordinary, though well-run, water park.
Address: Perissa
E-mail: info@santoriniwaterpark.gr
Website: www.santoriniwaterpark.gr
Telephone: +30 22860 83311
Opening times: Pools and slides are open 10am-7pm, daily.
Admission: €6 (adult) and €3 (child).