Plaza de la Independencia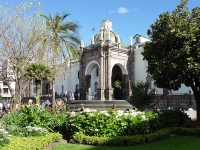 Plaza de la Independencia, Quito © Byron.calisto
The Plaza de la Independencia, also known as Plaza Grande, has always been the heart of the city of Quito, and as the hub of the old centre it is the best place to sit, enjoy a meal, and people-watch. Around the square are the Cathedral, the City Hall, the Government Palace and the Archbishop's Palace.
These are the most notable municipal and religious buildings in the city. The cathedral, the oldest church in South America, is one of the city's most impressive historical and architectural sites. Both the Government Palace and the cathedral were scenes of shocking murders.
In 1875, President García Moreno was murdered by machete, and in 1877 the Bishop of Quito was poisoned during a Good Friday Mass. But despite this gory history, the Plaza Grande is now the happy, atmospheric heart of Quito and should be the first stop for travellers.