Victoria Memorial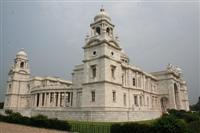 This astounding marble building is probably the most impressive colonial structure in India; in a city known for several great monuments and buildings, this palace is considered the architectural gem and most iconic landmark. It was built to commemorate Queen Victoria (although she never actually visited the city) and only completed in 1921, after 20 years of solid work. Inside is a fascinating museum of Indian history, including some wonderful sculptures and paintings. The monument is situated on 64 acres of land, which includes lakes, gardens and walking paths. The gardens are well-maintained and for many the lovely grounds and exterior facade of the memorial are the highlight - the museum is fascinating if you are genuinely interested in India's colonial history but the exhibitions are informative rather than entertaining. Although the museum officially opens much later, you can usually get into the gardens for a small fee as early as 5.30am. This is a really beautiful time of day to visit and wonderful for photographs or morning exercise. Note that although you can take wonderful photos all over the grounds, no photography is permitted inside the memorial. There is a sound and light show most evenings at 7.15pm.
Address: Queen's Way, Central Kolkata
Website: www.victoriamemorial-cal.org
Opening times: Open Tuesday to Saturday, from 10am to 4:30pm. Sound-and-Light show: 7:15pm (October to February), and 7:45pm (March to June). Closed on Sundays, Mondays and national holidays.
Admission: Monument: Rs. 150; Sound-and-Light show: Rs. 20