Marble Palace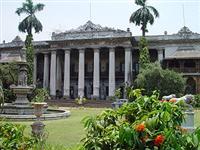 One of Kolkata's most unusual sites, this palace was built by a local member of the 19th century gentry in a marvelous patchwork of classical architectural styles. Lavish use is made of Italian marble, and the lawns contain an eclectic pantheon of statues including Christopher Columbus and the Buddha. The Marble Palace is a place of drama and dilapidation - and unsurprisingly, has frequently been used as a movie set. It remains a private residence, however, so you'll have to arrange a permit to view the interior (a worthwhile activity, if only to gawk at the impressive art lining the walls). Once you have obtained the permit, entrance to the palace is free and a member of the staff should show you around and tell you about the place - if you are impressed with your guide than a tip may be in order. Frequently, those who arrive without the permit are persuaded by the guards to pay bribes to get in but this is not advisable as once you have bribed one, you may be expected to pay another a few steps later! Next to the palace, you'll find the Marble Palace Zoo - the first zoo opened in India, it is now primarily an aviary, housing peacocks, hornbills, pelicans, storks and cranes. No photography is permitted in the palace.
Address: 46 Muktaram Basu Street (off Chittaranjan Avenue)
Telephone: +91 (0)33 2282 5813 (tourist office)
Opening times: Open from 10am to 4pm (daily except Mondays and Thursdays)
Admission: Free, but visitors must obtain a prior permit from the West Bengal Tourism Information Bureau. These offices are located at 3/2 Benoy Badal Dinesh Bagh (East), Kolkata.