Musée d'Historie Naturelle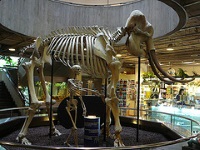 Natural History Museum © emagdi
When people in Geneva say they go to Museum, they mean The Natural History Museum. This museum presents an educational look at the world of nature with special emphasis on the ecological history of Switzerland. Included is a life-size model menagerie of bears, foxes, alligators, aardvarks and other animals from around the globe, as well as a complete collection of every mineral and plant indigenous to Switzerland. There is also a special children's area. A great place to bring the kids, the Musée d'Historie Naturelle contains numerous historical collections left to the museum by world-renowned scientists, such as Lunel, Saussure and Fatio. Children will be amazed by displays of animals and specimens including a leatherback turtle, giant spider crabs, tiger sharks and even a coelacanth.
Address: 1 Malagnou road
Website: institutions.ville-geneve.ch/fr/mhn/
Telephone: +41 22 418 63 00
Transport: By bus (Museum stop) or tram.
Opening times: 10am-5pm
Admission: Permanent exhibitions are free of charge