Plaza San Francisco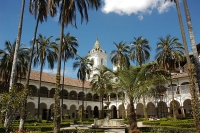 The Monastery on Plaza San Francisco © Francesco Bailo
The Plaza San Francisco is a large cobbled square with the western side completely dominated by the enormous façade of the Iglesia de San Francisco and its belltower, as well as the Monastery of the same name.
It is a peaceful place, without the shady benches full of people and the business of Plaza de la Independencia. Inside the church are chapels gilded in gold, splendid altars and many religious paintings and carvings produced by the Quito School.
The Monastery holds some priceless examples of Spanish sculpture and art. It is one of the biggest religious compounds in South America, with seven courtyards and buildings stretching behind the church.
These only become evident once the visitor has ventured through the stone doorway of the main entrance. The Iglesia de San Francisco is arguably Quito's greatest tourist attraction and a must-see for travellers in the city.