Edinburgh Zoo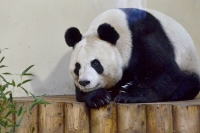 Giant Panda at Edinburgh Zoo © The Land
Featuring a wonderful variety of cute and exotic animals, children will be absolutely thrilled with a visit to the Edinburgh Zoo. It also offers younger visitors a Kids Zone where they can do puzzles, meet new additions to the zoo, find out about wildlife in their own back garden and more. A must-see is the penguin parade, held each day at 2.15pm. Another huge attraction of the Edinburgh Zoo is its Giant Panda enclosure, but note that visitors must book a time-slot to see these magnificent animals as they are kept largely out of the public eye. More than a thousand animals are housed in the zoo, in a lovely parkland setting.
For those young visitors keen to meet some marine life as well, Deep Sea World, Scotland's national aquarium, is located just 20 minutes outside the city, and is the perfect place for a fun-filled family outing on a rainy day. Children can view marine life such as sharks, eels and rays from one of the world's longest underwater tunnels, watch seal pups play, and even get to watch a shark-feeding session. There are a series of shallow 'touch pools' for younger tots to touch and handle some of the sea life, such as starfish and sea urchins.
Address: 134 Corstorphine Road, Edinburgh
E-mail: info@rzss.org.uk
Website: www.edinburghzoo.org.uk
Telephone: 0131 334 9171
Transport: Within walking distance of Waverley and Haymarket train stations
Opening times: 9am to 6pm April to September; 9am to 5pm October to March; 9am to 4.30pm November to February.
Admission: £16 (adults), £11.50 (children aged 3 - 15), free entry for children under 3.